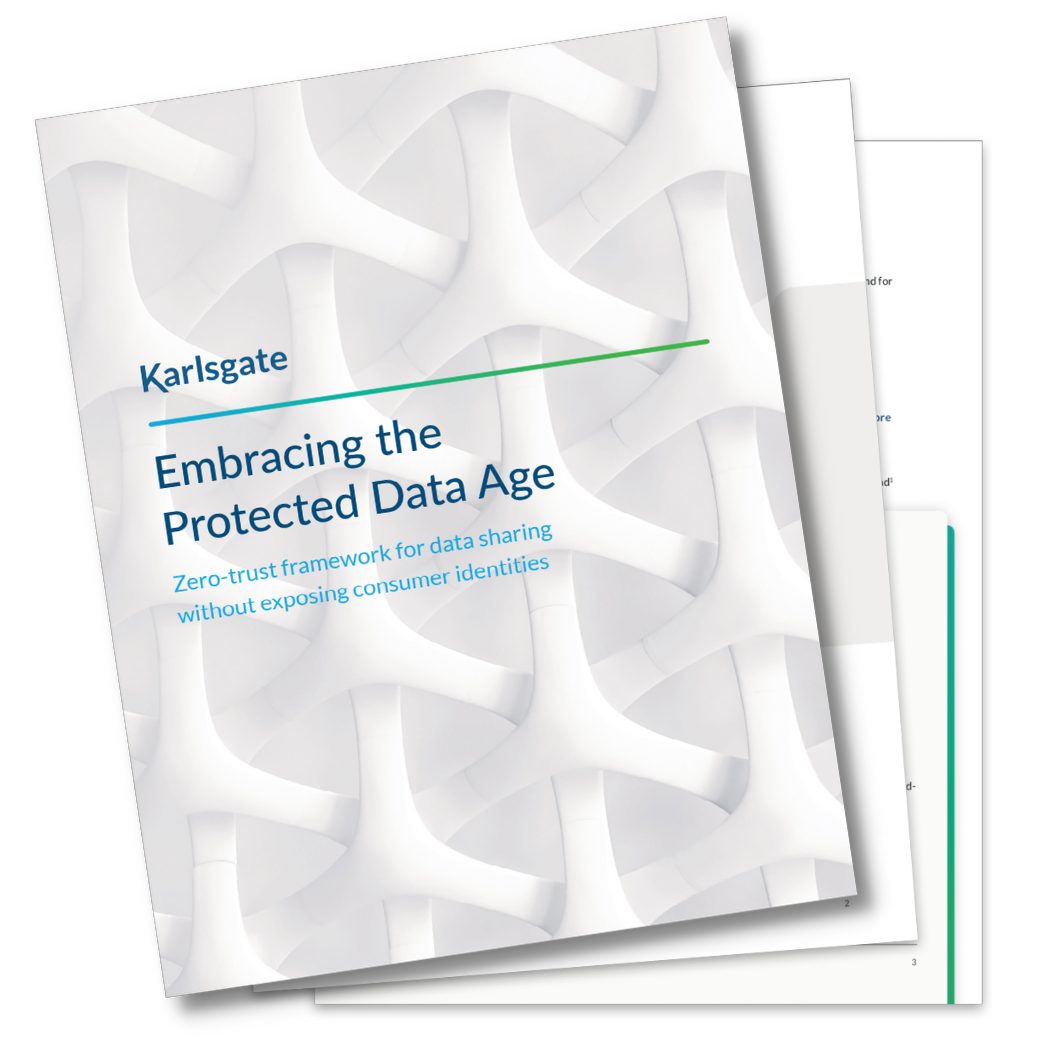 Whitepaper
Embracing the Protected Data Age
Protected Data Age: Where customer identity protection is inherent in the data-sharing process
Companies that excel in the Protected Data Age will embrace consumer privacy as a core tenet of their business. Yet brands still need to share data and get insights to power personalized customer experiences. Fortunately, it's not a paradox.
Download this whitepaper to learn:
The shortcomings of data sharing in the Information Age
A Zero-trust approach data sharing where you maintain custody of your data
Three steps for companies to succeed in this new Age
An Inside Look
The rise of the Protected Data Age represents a new way of thinking about how brands can protect the privacy of their customers. Today's data economy is a gold rush for consumer-behavior data where the consumer is the commodity and data the currency. In fact, consumer data collection drives the entire marketing and advertising ecosystem.
Historically, brands have relied on assurances of trading partners to keep customer data protected. But misplaced trust can have a very real cost to a business—either in the form of regulatory fines or loss of reputation after a data privacy crisis event like a data breach.
Thus, the Protected Data Age demands a new model for safely sharing consumer insights. Customer data protection should not be left to a handshake between partners. Rather, privacy and security must be inherent in the manner of sharing the data itself. It's critical in this new era to look for solutions that keep consumer data anonymous and don't rely on matching consumer identifiers.
Only when the fidelity of a transaction can be self-validated using a shared and verifiable procedure can participants in the ecosystem share data safely. Enter Zero-trust data sharing which allows data owners to share data freely without the risk of exposing consumer identities. Reducing dependence on trust between data partners is a form of decentralization and, as a result, is a key attribute in building a collaborative data-sharing environment that enables every party to thrive in the Protected Data Age.
$3.86M
average cost per data
breach in 2020
9%
decrease in global annual sales
from a data privacy crisis event
€332M
GDPR fines for information
security deficiencies in 2019
"For technology to keep pace, new mechanisms need to be designed, developed and implemented, empowering a new social contract regarding Personal Data."
Reviews
What are people saying about our eBook?